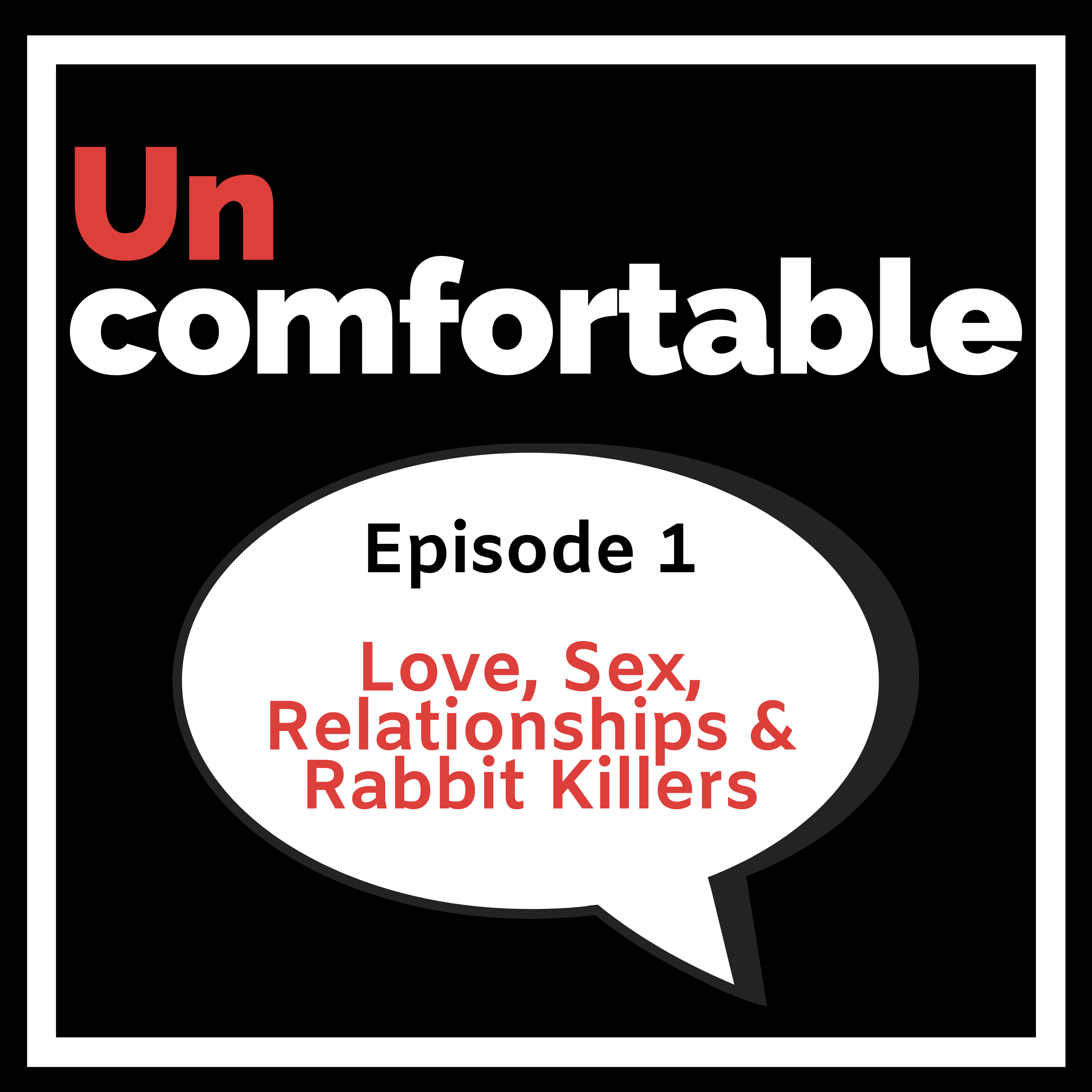 *Revision* This episode was originally the first DebTalks podcast episode (prior to our rebrand). We love it so much that we want it to continue to be part of Uncomfortable. A big thanks to Jill Prescott & Andrea Hill for stepping up and being the first podcast guests. 
It's been a long time coming but it's finally here. Episode #1 of The DebTalks Podcast is all about Love, Sex, Relationships and Rabbit Killers and you'll understand the rabbit killer reference at the 52:54 mark. (We don't really kill rabbits, we love rabbits! This episode is cruelty free and no real rabbits were harmed during the recording, or ever, promise).
I needed two open and honest women who would get deep into this subject and I didn't have to look far. Previous DebTalksTV guests Andrea Hill and Jill Prescott joined me in the studio to chat about our fav topic.
In this podcast we delve into dating, loving yourself, moving forward after trauma, communication and boundaries, sex, orgasms, and Rampant Rabbits! #RabbitKiller
Episode 1 - Show Notes
Connect with Jill Prescott
You can find and connect with Jill over on her website at www.jillprescott.ca. You'll also find her on Facebook and Instagram. Since the recording of this episode, Jill has replaced Monday Oracle card readings with "Tell-it Tuesday's". Find our more here.
Make sure to watch Jill's incredibly moving TedxTalk "Being Vulnerable Gave Me Freedom" and make sure to share it with your friends!
You can also catch Jill's first DebTalksTV interview "Trust and Surrender" here.
Connect with Andrea Hill
You can find and connect with Andrea on Facebook, Instagram and Twitter.
Catch Andrea's past DebTalksTV video interviews:
Connect with Success
Lead in Love
Checkin' in with Andrea Hill
Book List:
No More Fucking Secrets: A Conversation For Freedom
 by Jill Prescott
Calling in "The One": 7 Weeks to Attract the Love of Your Life
 by Katherine
Autobiography of a Yogi
 by Paramahansa Yogananda
Shout out to:
Brené Brown and all her wise words and awesomeness!
Our local Vancouver sex shops - The Art of Loving and Womyns' Ware for providing toys and sex eduction.
The Rabbit Vibrator
 for providing us with so much joy! (Or if you are Andrea, thanks to the Equestrian Community!)